How do we write good object-oriented programs? Despite the name, it is not by focusing on objects.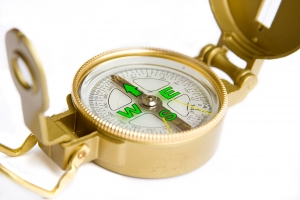 Object-oriented (OO) programming presents several concepts to the programmer not present in a procedural language. Given the name "object-orientation", objects is clearly a central concept. Objects are the basic building blocks of our program and they carry out all the important work of our program. This should be contrasted with procedural programs, where functions are global and data is passed as arguments.
From time to time, you come across OO programs that has a procedural flavor to them. There are few, if any, interfaces and classes are primarily used to organize related functions with data. Admittedly, this is a slight administrative improvement over procedural programming with structs and global functions. The problem is, OO programs like this have the same problems as procedural programs: coupling.
Martin Fowler illustrates the concept very well in his article Design Principles and
Design Patterns (Figure 2-17 on page 13). Assume you have a main function. Main calls three other functions, which in turn calls two other functions. Main now depends on all its descendants! High-level logic should not depend on low-level implementation.
The same applies to the "procedural style OO program" described above. Main might use three objects and call a function in each. Those functions might call two functions on some other classes and so forth. Main will depend on all classes and functions. Before you know it, main depends on your whole system.
The point is, even though objects do all the important work, they do not take us very far when trying to write good, decoupled software. Instead, have a look at Figure 2-18 in the article. Assume that main calls functions on three different interfaces. Main would not know or care which class implements each interface. Main depends only on the interfaces.
Thus, when writing object-oriented software, think primarily about abstractions and interfaces. After that, you can think about objects.